SPEAKING RUBRIC Teacher and student friendly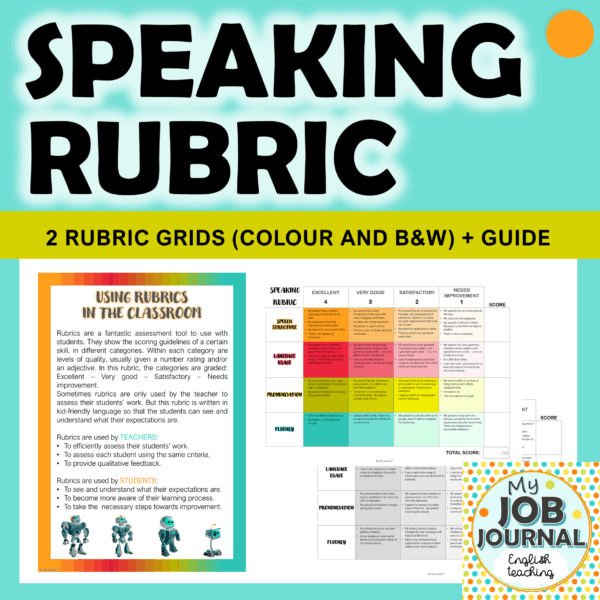 SPEAKING RUBRIC Teacher and student friendly
Rúbrica de Expresión oral (en Inglés) en dos formatos: Tarjetas para unir con una anilla y tablas comunes (A4)
This is a versatile SPEAKING rubric useful both for teachers and students (and parents!) that comes in two presentations:
Cut out, laminate and attach to a ring binder to have an engaging and attractive rubric for your students.
Print the 2 grids (colour or b&W) for your students to self-assess their work or for you to grade your students.
Rubrics are a fantastic assessment tool to use with students. They show the scoring guidelines of a certain skill, in different categories. Within each category are levels of quality, usually given a number rating and/or an adjective. In this rubric, the categories are graded: Excellent – Very good – Satisfactory – Needs improvement. It also has different ROBOT VISUALS that will help your students understand the difference between a good piece of writing and a poor one (see thumbnails above).
The categories of this writing rubric are:
SPEECH STRUCTURE
LANGUAGE USAGE
PRONUNCIATION
FLUENCY
You may also like the WRITING RUBRIC
Información sobre el material:
Aquí podrás leer opiniones de otros/as compañeros/as. Te animamos a compartir cómo vas a usar el material para poder nutrinos todos/as de nuevas ideas. Recuerda siempre ser respetuoso/a. Los comentarios que no sean constructivos, serán eliminados.
My Job Journal ESL
ESL Printables, Games and Materials